Australian gins are pushing the boundaries of flavour and taste with unique botanicals and distilling processes.
It's clear Australian gin is having a moment. More than 600 different craft gins are produced in this country and many are now international award-winners.
You've probably heard of Four Pillars and Archie Rose. But some of the smaller, more unique companies might surprise you with their unique flavours.
We couldn't possibly cover all of the Australian gins on sale in this country. But we have listed the best and most-unique gins below.
SevenZeroEight by Shane Warne
International sportsman turned businessman, Shane Warne, has celebrated yet another win, but this time for his globally acclaimed premium gin.
The Classic Dry Gin has won a Gold Award at the Australian Gin Awards 2021 for the second time running. The signature gin uses modern distilling techniques and a smooth finish with subtle hints of citrus and thyme.
It's an ideal choice for a classic G&T or a martini.
"It is a great honour to receive recognition by the industry's leading experts. Our team in Western Australia strives for quality, consistency and sustainability with all our products in the collection and I could not be more proud of their achievements in this year's Australian Gin Awards," comments Shane Warne.
Never Never Distilling Co.
Set in the picturesque vineyards at Chalk Hill, Never Never Distilling knew they had a responsibility to bring the world the first-ever Grenache gin.
Ginache is the spirit of the wine country. It has a deep ruby hue and boasts notes of raspberry, cinnamon and candied peel.
The guys at Never Never recommend serving their Ginache gin in a signature G&T. A shot of gin, topped with tonic water and garnished with an orange wedge ought to do the trick.
Husk Distillers
Ink Gin – $82 – 700mL – 43% ABV
Nestled in the Tweed Valley on the North Coast of New South Wales, Husk Farm Distillery produces a naturally colour-changing gin.
The unique gin is infused with 13 organic botanicals and butterfly pea flower petals. Like magic, these pH-sensitive petals transform from their natural indigo to a rose pink hue when mixed with tonic water, lemon or lime juice.
Read more:
Unique stays for wine-loving couples
3 romantic Valentines day cocktails
The floral-infused gin can be enjoyed at home as a classic G&T. Alternatively, you book a tour of the Husk Farm Distillery, open to the public in Tumbulgum.
Manly Spirits Co.
Sea parsley and fresh coriander leaf are the heroes of this coastal-inspired Australian craft gin.
Lemon Aspen, Lemon Myrtle and Meyer Lemon offset the savoury flavours and give it a punchy citrus hit.
Enjoy a refreshing glass of the Coastal Citrus gin on a hazy summer's day and sip it well into the balmy night.
Manly Spirits Co. will tickle you pink with their Lilly Pilly Pink Gin.
It is crafted with 12 botanicals including riberry, native limes, raspberry, blood orange, coriander, angelica, orris, juniper, rosella and sea fig.
Part of the colour comes from succulent summer berries and edible pink dune flowers.
Despite its lolly pink hue, the Australian craft gin isn't overly sweet thanks to its zero-sugar recipe. Lilly Pilly Pink gin is the perfect ingredient in any summer cocktail.
Take your gin knowledge to the next level by taking part in a Gin Making Class or kick-back with a G&T in hand at Manly Spirits Co's Gin Tasting Bar.
Gold Emotion Australia
For the gin drinker that enjoys the finer things in life, Gold Emotion offers a premium craft gin infused with 24k edible gold flakes.
This dazzling Melbourne gin is distilled by award-winning producer Gypsy Hub for Gold Emotion. It has floral and fruity aromas and deep notes of citrus, spice and pepper. This unique gin certainly has the complexity to rival top-shelf competitors.
The distillery isn't open to the public but you can transform every at-home tasting into a celebration. Enjoy Pure Gold Gin on the rocks or in your favourite cocktail.
That Spirited Lot Distillers
Satisfy your sweet tooth with a Turkish Delight flavoured gin cleverly innovated by That Spirited Lot Distillers, a boutique family distillery in Seaford, Victoria.
Using a classic flavour combination that we know works, this Australian craft gin boasts notes of rose, pistachio and ginger. It's brightened by lemon and finished with distilled rose water.
Enjoy the dessert-inspired gin exactly as the distillers recommend by grabbing a 'Fizz Kit' which includes Turkish Delight Gin, tonic, bitter lemon and a garnish pack.
Who said that apple pie had to be served warm and with ice cream? Serve it on ice with tonic instead. That Spirited Lot Distillers continues on the dessert path by delivering a liquid apple pie.
A nostalgic mouthful of apple and cinnamon, Apple of My Eye Gin is sensational on its own or as an addition to a martini.
The Australian craft gin is created by distilling apples in five different ways. The labour-intensive process means there are just 120 bottles produced. This might just be the most coveted gin you can get your hands on.
That Spirited Lot Distillery offers private bookings so that gin drinkers can get up close and personal to all the distilling action.
Earp Distilling Co.
Just Juniper is a sophisticated craft gin that uses restraint to showcase its robust juniper flavour. Aptly described as unadulterated, the Australian craft gin is the best gin for a G&T.
With simplicity at its focus, Earp Distilling Co offers 250mL refill pouches designed to refill your original ceramic Earp bottle. They are excellent for picnics, camping or any activity where a large bottle of gin would get in the way.
The Cannabis Co.
Melbourne gin company, The Cannabis Co. has crafted a gin that will intrigue the palate.
Don't be shy, despite its 58% alcohol volume and star ingredient hemp, this Australian craft gin is a smooth spirit made for all drinkers – tame and wild alike.
They've blended fresh tones of grapefruit and lime with earthy notes of turmeric, ginger and cinnamon.
The Navy Strength Hemp Gin is a delicious concoction of 13 exotic botanicals and β-caryophyllene, one of the most beneficial terpenes in cannabis, holding anti-inflammatory, antimicrobial and antibacterial properties.
Let the hemp flavour sing by pairing it with a restrained choice of tonic and a slice of lime.
Wolf Lane Distillery
Tropical Gin – $69 – 500mL – 42.5% ABV
This summer forward craft gin will transport you to the tropical beaches of far North Queensland.
Distillers combine dry botanicals including Tasmanian pepperberry, cardamom, macadamia, Anjelica root and lemon myrtle with locally sourced Cairns mango, ruby grapefruit, finger lime, lavender and mint. The result is a 2019 National Gold Award winning gin.
With soft citrus notes and honeyed edges, Wolf Lane's Tropical Gin is best served in a refreshing G&T with a slice of grapefruit or a fruity cocktail to imitate the laid-back lifestyles of those living in coastal Northern Queensland.
Wild Brumby
Just when you thought gin couldn't get more popular, along came pink gin.
Wild Brumby's pink gin showcases what the pink variety is all about by highlighting organically home-grown 'rubus patch' raspberries.
Lively berry notes interact with softer tones of rose, cardamom, coriander and mountain pepper berry.
To avoid washing away that berry nose, pair Wild Brumby's craft pink gin with a splash of lemonade or prosecco instead of tonic. Experiment with different fruit garnishes for a fun and colourful beverage.
Fancy a drink on site? The Wild Brumby Stillhouse Café takes reservations Thursday through Monday.
White Lies Brewing and Distillery
A crazy flavour concept that shouldn't work but does. White Lies Brewing and Distillery packs a wasabi punch that stuns and refreshes the palate.
The Australian craft gin is double distilled with fresh wasabi root, made in small batches and unfiltered to retain its vibrant and undiluted flavour.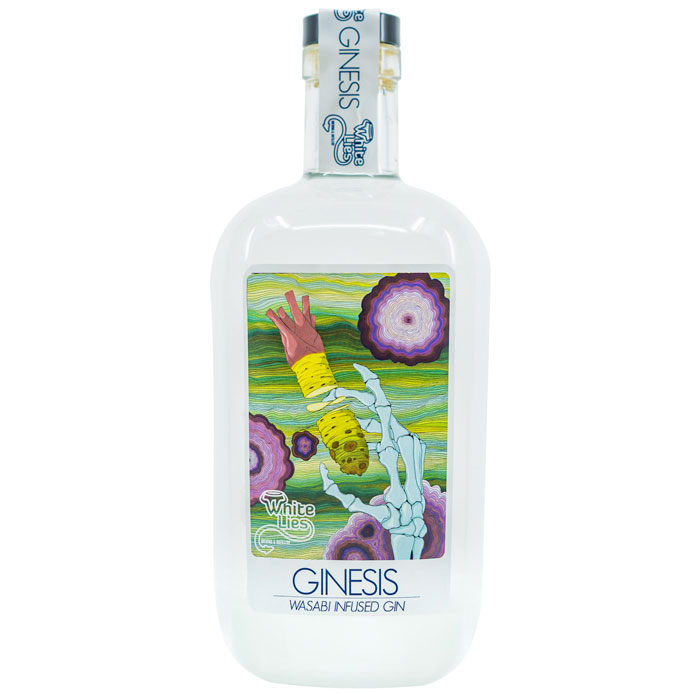 Created during the pandemic, it's no surprise that Ginesis Wasabi Gin is the culmination of both isolation and imagination.
Just as the distillers suggest, keep the wasabi gin simple by having it straight, on ice or with tonic.
Read more:
6 tiny homes you can book near Sydney
The best mountain bike trails in Sydney
Meet your daily fruit intake with a slightly different method – a glass of mandarin flavoured gin.
Created by the same weird and wonderful White Lies Distillery that brought us wasabi gin, this mandarin gin is equally as daring and bold.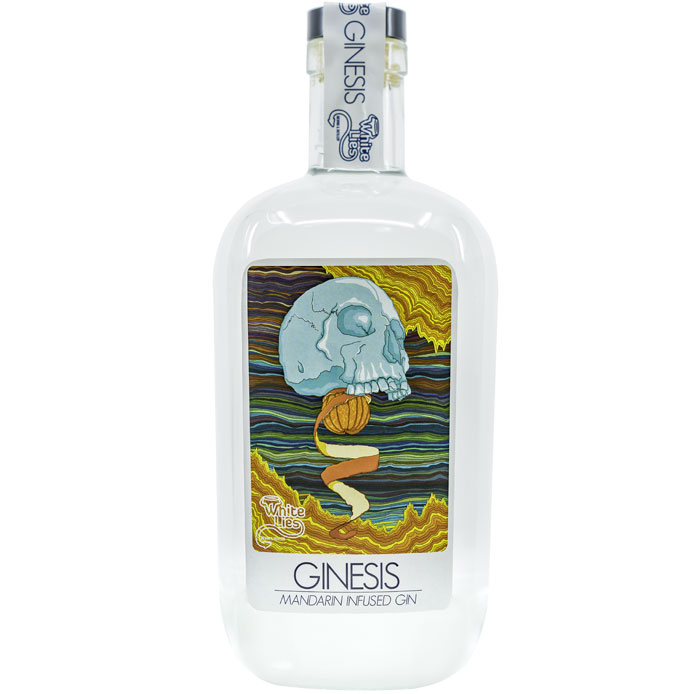 A minimal number of botanicals are used to keep a clear canvas to really showcase the Queensland mandarin.
This Australian craft gin will bring enough citrus brightness to any summer cocktail.
Karu Distillery
Lightning Gin is a rich, juniper-dominant, Australian craft gin from Karu Distillery near Richmond, Western Sydney. It has won several awards including Double Gold at the San Francisco World Spirit Awards 2019.

Karu Distillery combines slightly fruity, sweet citrus notes offered by a hint of mandarin with soft honeybush, rose geranium, lemon myrtle and vanilla. The brew leaves a lingering buzz on the lips.
For the full effect, pour a nip into your glass, add an ice cube or splash of water and let the Lightning Gin speak for itself.
Four Pillars
Mix Yarra Valley Grapes with gin and what do you get? The answer is Bloody Shiraz Gin and it's bloody brilliant.
Four Pillars Distillery in Melbourne's Yarra Valley took a punt by marrying Shiraz grapes with Rare Dry Gin. The result is a deep, reddish purple gin juice with a sweetness straight from the grapes.
It has aromas of fresh pine needles, citrus and spice along with distinct peppery and tart berry notes.
The Australian craft gin is versatile, perfect in a classic G&T, spritz or cocktail.
Four Pillars has made the only gin in the world uniquely crafted specifically to go into a Negroni cocktail.
Four Pillars uses Indonesian cubeb and West African spice grains to produce an Australian craft gin that packs in the heat.
Of course, you must have this in a Negroni cocktail – equal parts Four Pillars Spiced Negroni Gin, Campari and sweet vermouth and a twist of orange peel to garnish.
Four Pillars distillery has partnered with The MAD (Make A Difference) Foundation to create a gin that will benefit the community as much as it benefits the gin drinker.
It doesn't lack in flavour, with a bright citrus hit and some light pepper and spice. From every bottle sold, $50 will go directly to The Mad Foundation, which helps disabled and disadvantaged youth in Australia.
Try one of the best Australian gins in The Mad Foundation's very own cocktail, the MAD Mule.
The Canberra Distillery
It turns out Earl Grey isn't just for tea-lovers. The Canberra Distillery have collaborated with the HerCanberra team to create a French Earl Grey Gin.
Infused with bergamot and lavender, Canberra Distillery's craft gin is delicate and fragrant.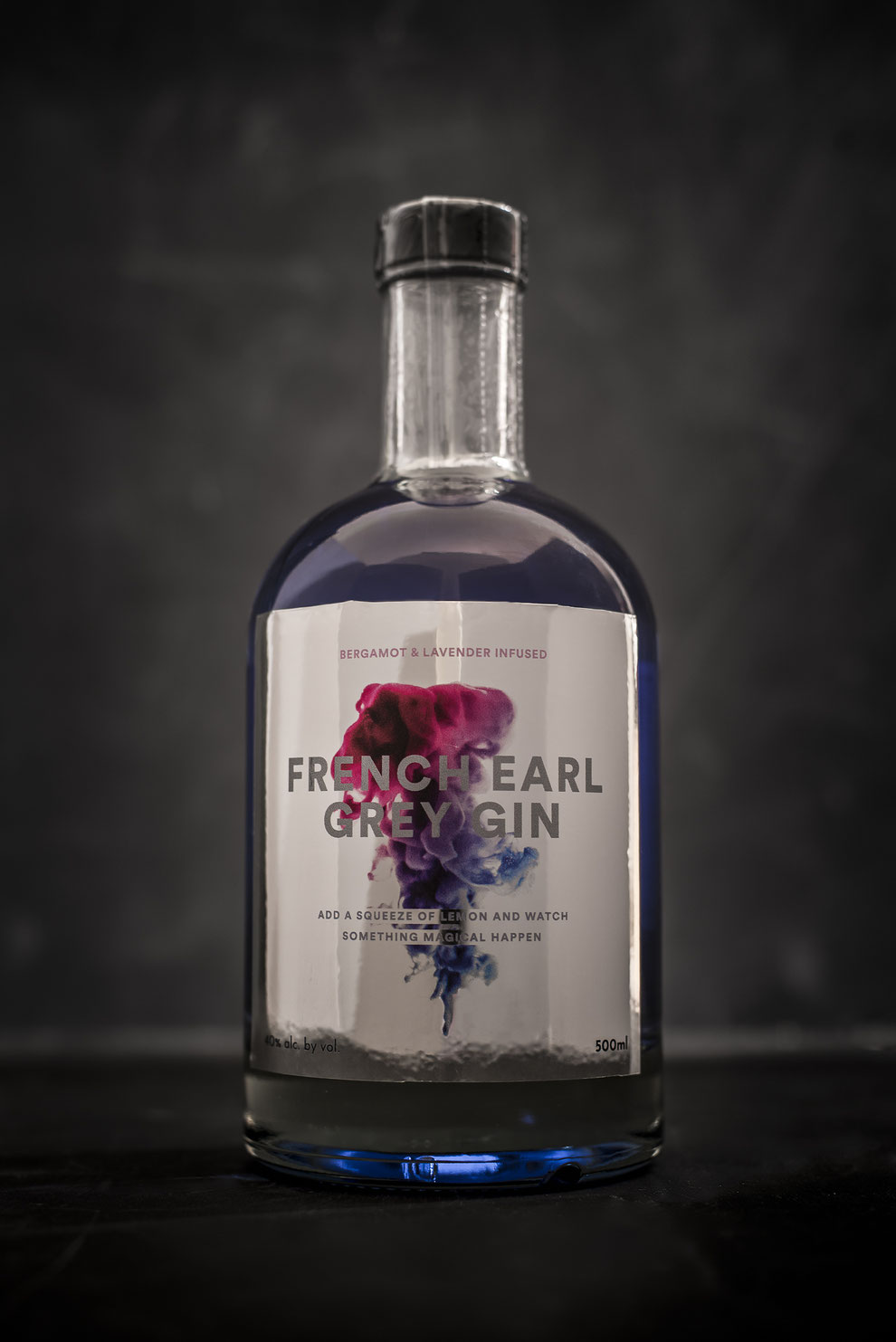 It also has colour changing abilities thanks to our old-friend butterfly pea flower, which when mixed with lemon, lime or tonic transforms from blue to a rich violet.
It's gorgeous with a Mediterranean tonic.
Dune Distilling
It's been described as Margaret River summertime in a bottle. Dune Distillery's newest craft gin combines lime and green tea for a refreshing mouthful.
The Australian craft gin relies on locally sourced produce and botanicals. Both the limes and green tea leaves are sourced from local producer Seven Seas.
The bittersweet green tea leaf and zesty limes harmonise to make a perfectly balanced Aussie gin.
The Lime & Green Tea gin is best served simple with tonic and lime or at the distillery restaurant which you can book here.
Who doesn't love Christmas? You can enjoy it all year round with Dune Distillery's Australian Xmas Gin.
Inspired by an iconic Aussie Christmas dish – the pavlova itself, the Australian Xmas Gin is distilled with fresh passionfruit, kiwi and juniper.
While a tipple would be most appropriate on Christmas Day, celebrate any day, anywhere either in a classic G&T or in your own pavlova-inspired cocktail.
Australian Distilling Co.
The Australian Distilling Co.'s range of award-winning gins captures the essence of our country and some of our most iconic cities.
The company's flagship gin puts a unique Australian stamp on the London dry gin style, with a juniper-forward palate that is perfectly offset by coriander, cardamom and nutmeg.
Sydney Gin – $75 – 700mL – 40% ABV
The distillery has sourced Sydney's regional botanicals to showcase the unique flora of the city.
Expect a big hit of juniper, coriander, native lemon myrtle and orange zest.
Australian Distilling Co. has put Brisbane's sunshine in a bottle with this unique craft gin.
They've included bold flavours like such as Queensland finger lime and fresh ginger to make sure you fall in love at first sip.
Read more:
Two blokes take on Byron Bay spa
12 private islands you can rent
To reflect the culture-rich and effortless cool vibes of Melbourne, this gin has been triple-distilled and enhanced by opulent spices and zesty citrus.
It's sure to be a hit, having won six international gin awards. Just like Melbourne, it's best served with coffee.
The incorporation of Kangaroo Island lavender gives Adelaide Gin a delicate floral profile.
A range of spices including juniper, orris root, coriander and cardamom enhances the traditionally South Australian florals.
Darwin Gin – $75 – 700mL – 40% ABV
Notes of rose, lychee and frangipani are blended to replicate Darwin's warmth.
You'll never feel far from Darwin's tropical beaches with a glass of this in hand.
Perth Gin – $75 – 700mL – 40% ABV
Simple but stunning is the theme for the award winning Perth Gin.
A fusion of native boronia and bright lemon myrtle shine in a gin that is perfectly Perth.
Bondi Gin – $75 – 700mL – 40% ABV
This Australian craft gin celebrates Bondi's picturesque beaches and cosmopolitan cafe's in a modern brew of blood orange, vanilla and lemon tea tree.
Archie Rose Distilling Co.
Named after Australia's leading cultural icon, this gin duo has something for everyone.
Outside Gin and Inside Gin capture the beauty of the architectural design and natural surrounds of the Sydney Opera House.
Outside Gin takes inspiration from Sydney Harbour and the Opera House sails. It has subtle flavours of lemon-scented gum, South Australian yuzu, finger limes, white grapefruit, locally foraged sea blite and native seaweed..
Inside Gin recreates the dynamism you would experience in a play, concert or celebration beneath the sails of the Opera House. It is a fruit-driven gin with botanicals including native thyme, Australian apricot, raspberry and strawberry gum.
Archie Rose Gin have thrown their support behind female artists by collaborating with the National Gallery of Australia.
The initiative #KNOWMYNAME was created to honour and recognise the role Australian women have played in shaping Australian culture.
Just like the female artists, the gin is bold in character and showcases native Australian botanicals including strawberry gum, pink peppercorn, river mint and orange peel.
Lyre's Non-Alcoholic Spirits
Maybe you're doing dry July, maybe you're just not a fan of alcohol? Either way, you can still enjoy a classic G&T or five without the alcohol or the hangover.
This unique spirit has been beautifully crafted to capture the essence of a classic London Gin. It has strong juniper and citrus flavours without the alcohol content.
Enjoy as a classic G&T with premium tonic and add a slice of grapefruit and a sprig of rosemary to garnish.
Wild Flower Distillery
The Gold Coast-based distillery produces small batches of the Wildflower signature gin and every bottle is packed full of flavour.
Wildflower Signature Gin stays true to the classic gin flavours, balancing juniper, lemon myrtle and the distiller's own backyard honey.
Even though we're strictly gins on this page, it is worth mentioning that Wild Flower Distillery produces a unique lamington-flavoured vodka.
Grown Spirits x Blue Mountains Botanic Garden Mount Tomah
This will be the most important gin you drink, with profits of this gin helping to support communities affected by the 2019/20 bushfires.
The Blue Mountains Botanic Garden Mount Tomas suffered catastrophic damage as a result of the fires. Profits from this Grown Spirits collaboration with the botanic garden will go towards funding rebuilding and repair of the gardens.
This Australian gin's hero botanical is Eucalyptus pulverulenta and it is rounded out with juniper, Valencia orange, liquorice root and angelica.
Seppeltsfield Road Distillers
Western Barossa Shiraz grapes are macerated to produce this award-winning craft gin. It delivers rich shiraz fruit flavours with subtle juniper, orange and cinnamon notes.
The distillers recommend you serve this versatile gin as a classic G&T, straight over ice or in a Negroni.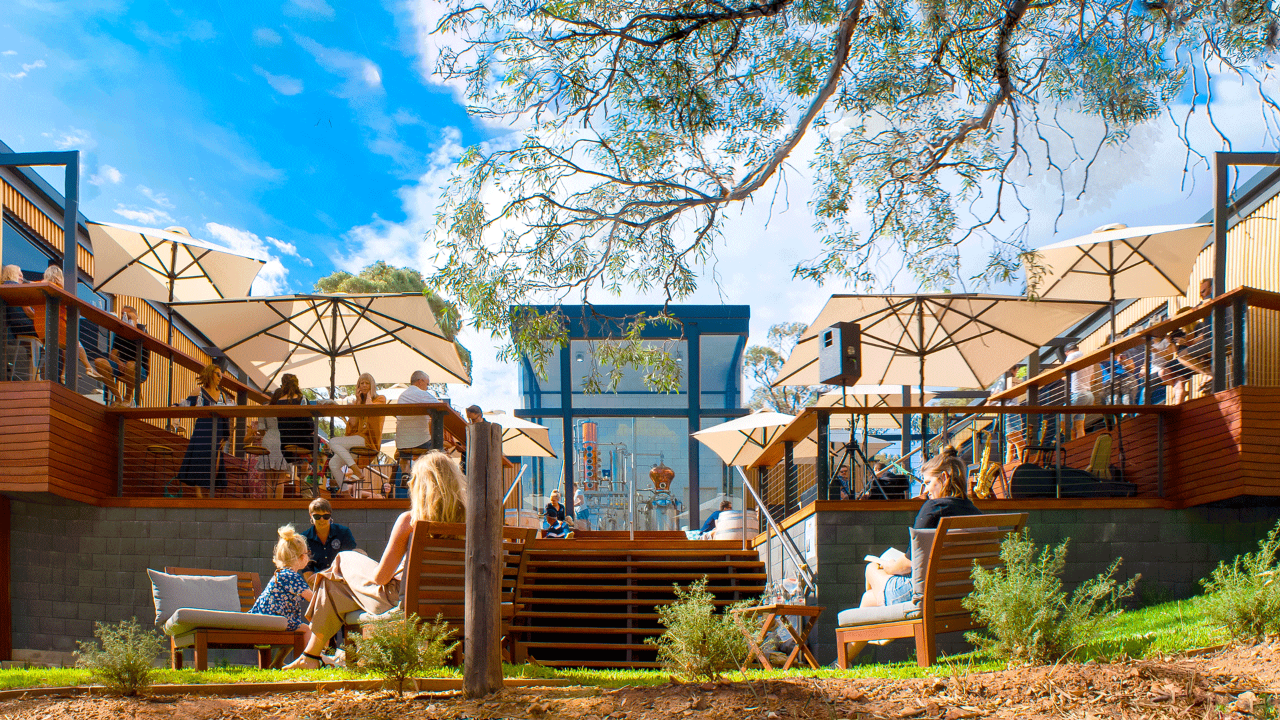 Less than an hour from Adelaide, 'Seppeltsfield Road Distillers' distillery and tasting room are open to the public to visit from 11am-5pm, 7 days a week. Book here.
Patient Wolf Distilling Co.
Patient Wolf's latest offering for Summer has aromas of crushed thyme, lemon oregano, fresh juniper and white pepper.
The lively gin is bursting with lemon zest and delicate pine freshness. Enjoy it best classically as a G&T by the pool, in a hammock or on a rooftop.
Cape Byron Distillery
This cumquat infused gin is an ode to distiller Eddie Brook's grandmother Shirley aka 'Shirl the Pearl'. Shirl was a pocket rocket, an adventurer, skier and one of Australia's first female pilots.
This gin is sweet and full of zest just like Shirl, with uplifting notes, zesty characteristics and refreshing waves of orange blossom.
Cumquats are steeped in dry gin and macerated for several months to balance the spirit and create springtime in a gin.
Anther Distillery
Anther Cherry Gin – $90 – 700mL – 30% ABV
The Geelong-based distillery has gone experimental with cherries, sourced from Spreyton in northern Tasmania.
Thousands of hand-pitted cherries are macerated to produce a robust, complex-flavoured gin.
Botanicals such as nutmeg, ginger, orris root and tarragon offer a unique and earthy taste.
The West Winds Gin
Wild Plum Gin – $89.99 – 700mL – 39% ABV
Davidson plums and sloe berries take centre stage in Wild Plum's 2020 gin release.
Banksia honey and strong citrus notes balance the plums' tartness.
The release has become Australia's most-awarded flavoured gin .
The plum-flavoured gin has enough character to spice up a traditional G&T, garnish with an orange wedge to refresh.
Bass and Flinders Distillery
Australian ant pheromones are the star of this unique Australian gin. Plant-based botanicals compliment the pheromones released by the ants during distillation
The botanicals, hand-picked at Wooleen Station, include Mulla Mull and Purple Vetch flowers, lemongrass, sandalwood nuts and currant bush.
Bass and Flinders Distillery is collaborating with the School of BioSciences at the University of Melbourne to determine the chemistry of the ant pheromones captured in distillation.
Pair this unusual gin with tonic and lemon for a refreshing taste.
Looking for more Vacations & Travel stories? Read on.
---